July 5th, 2022 · 6 min read
Boost employee lifetime value (ELTV) with workforce education
Having your C-level executives understand the value of learning and development (L&D), and ultimately getting buy-in to invest in these initiatives, seems like it should be a cinch. Yet, often that's not the case.

This is where HR and L&D leaders turn to data for proof. 
Employee lifetime value (ELTV) is a powerful, data-based metric that enables you to quantify the value of your employees and their output throughout the entire employee lifecycle. Moreover, it can be leveraged to build a case for investing in talent development programs, such as workforce education.
While the benefits of talent development and workforce education are often clear to L&D leaders, CEOs and CFOs want to see quantitative data. An overwhelming amount, 96% of Fortune 500 CEOs, report interest in understanding the investments and impact of their company's learning and development initiatives. 
With ELTV data, you can provide more clarity into these programs and demonstrate how the costs of developing employees through workforce education is an investment with tangible business outcomes. 
Let's take a closer look at ELTV through the lens of workforce education. We'll dive further into what the metric really means and how workforce education can help boost ELTV at your company.
What is employee lifetime value (ELTV)?
ELTV is an indicator or measurement of the estimated financial value or profit that an average employee brings to an organization over their entire time working for the organization. A high ELTV indicates a positive impact on the business, as it reflects that employees are bringing value to the company throughout the various stages of their employment.
ELTV is a somewhat new framework, but it's more relevant than ever as organizations vie to attract and retain talent in an increasingly competitive landscape.
Here's a quick snapshot of how it works:

When an employee first gets hired, their overall output is negative because they have yet to produce value while your organization dedicates time and resources to onboarding them. 
However, once a new hire is fully ramped and they're able to deliver on their job responsibilities, they begin to produce output and drive value for your business. This output fluctuates throughout their time at the company based on a variety of factors, including engagement, retention and performance levels.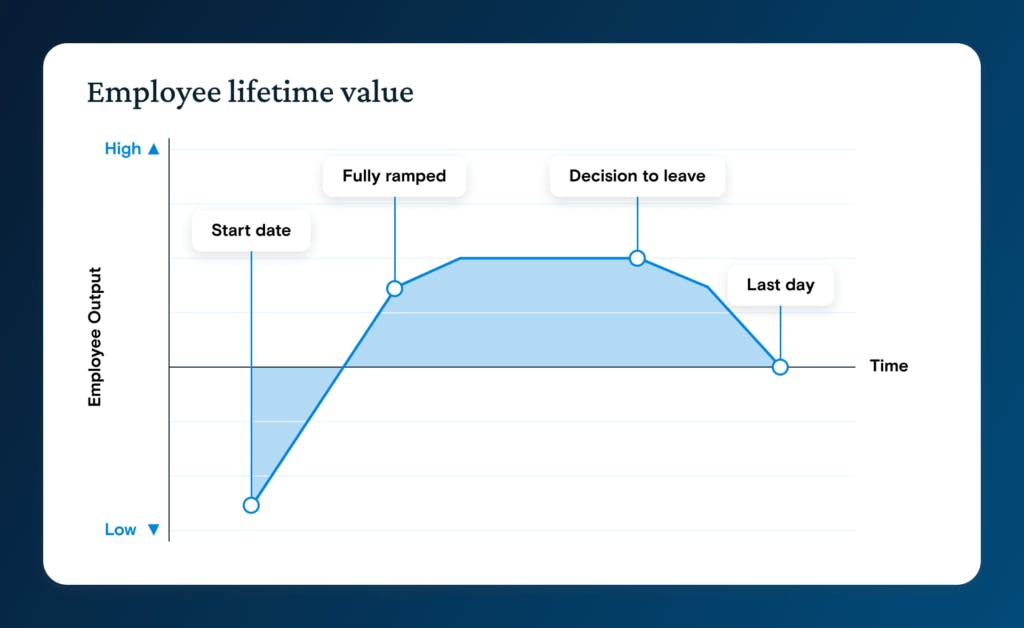 As a people leader, the goal is to invest in programs and initiatives that maximize the output and overall value of your workforce.
Of course, this is a very simplified view as the components in this framework will vary depending on the industry and organization. Then, it can be further refined based on different job descriptions, seniority levels and scopes of responsibilities. However, this basic description provides a starting point to begin ELTV calculations.
5 ways workforce education positively impacts ELTV
ELTV data can provide you with the necessary information and a fresh perspective to showcase the importance of a modern workforce education program. The following outlines five factors that highlight how an effective workforce education program can have a significant impact on ELTV and drive tangible outcomes for your business.
Stronger hires with shorter ramp times
In today's war for talent, companies looking to stay competitive understand the importance of a strong employer brand that attracts qualified candidates. 70% of U.S. employees say they're somewhat likely to leave their current company and accept an offer with a new company that's known for investing in employee learning and development. 
It's clear that education opportunities matter when it comes to an employer's brand and attracting top talent. External awareness of a company's workforce education program has the potential to attract higher-quality employees, which can also lead to shorter ramp-up times. Furthermore, having an enhanced employer brand can reduce the time to fill open roles driving a reduction in associated recruiting costs.
To quantify this, here are some key metrics to look at:
Hiring costs before and after participating in a workforce education program
Length of recruiting cycle
Time-to-productivity
Boosts employee engagement
When it comes to engagement, an effective workforce education program has the power to set off a chain reaction that delivers far-reaching outcomes. A majority of employees say that L&D opportunities make them feel more engaged on the job — this is something that nearly all people leaders strive to achieve. 
Additionally, the connection between engagement and productivity cannot be downplayed. Based on a Bain & Company study, engaged employees are 44% more productive than workers who merely feel satisfied and an employee who feels engaged and inspired is 125% more productive than the unsatisfied staffer.
When you provide your people with opportunities to develop their skills and grow, they feel engaged and productive. The combination of these two outcomes leads to employees that stick around for longer, and have increased output throughout the duration of their employment at your company. The result is a significant positive impact on ELTV.
Employee Net Promoter Score (eNPS)
Employee satisfaction survey
Turnover rate
See workforce education in action: Learn how Desert Financial Credit Unions leverages strategic workforce education to engage its employees. Read the case study. 
Effectively addresses skills gaps and job needs
The numbers are in – the need for people with in-demand skills is outpacing the supply in today's market. 
Most companies worldwide (87%) already know that they have a skills gap or anticipate having them within a few years. Workforce education helps your employees build and refine their skills, so you can depend on internal resources instead of having to hire for them, thus maximizing your ELTV.
Additionally, through education, employees have the opportunity to become more capable and efficient in their current roles. Unlike traditional full-time students, working adult learners can leverage what they learn in their coursework and apply their newly acquired knowledge immediately. This further raises ELTV by making employees more productive and valuable over time.
Here's how you can quantify this:
Employee performance metrics
# of internally vs externally filled roles
Fuels internal mobility and develops a pipeline for leadership
According to an InStride survey, 82% of senior leaders said developing future leaders is the most pressing challenge their company faces. Providing workforce education prepares current employees to be promoted to key leadership positions or other roles. This not only helps fuel internal mobility to fill job openings, but it also keeps employees motivated, engaged and incentivizes them to stick around for longer.
As mentioned earlier, highly engaged employees that stay with your company for longer directly contribute to a higher ELTV. InStride data shows that participating employees are promoted at a 3x higher rate than non-participants.
Promotion rate of workforce education program participants vs general employee population
Employee output over the duration of the employee lifecycle
Recruiting costs
Improves employee retention
As mentioned earlier, today's top employees seek out employers that provide them with learning and development opportunities. In a recent survey, 94% of employees stated that they would stay in their current roles longer if the company invested in their professional development.
In particular, workforce education program participants show an increase in retention, a key driver of healthy ELTV scores. The more high-quality talent you retain, the higher your ELTV.  You can also avoid costs associated with recruiting, onboarding and productivity loss that result from turnover, as well as the time spent getting new hires up to speed. 
Average tenure of employees
Cost of turnover
Retention rate
ELTV: Shifting the curve up with workforce education
Intuitively, business leaders understand that data has value. But it's not solely the data itself that's valuable. Rather, what's key is how you actually use it. 
Each one of the above outcomes is tied to data and metrics that illustrate how workforce education can boost the total output and value that an employee brings to an organization throughout the duration of their time working there.

Using this data allows your executive team to understand which initiatives maximize ELTV and you, as an L&D leader, to build a business case for investing in the company's most important asset – your people – through workforce education. 
Discover the ROI of workforce education: Discover how a strategic workforce education can directly impact your bottom line with this ROI calculator. 
You can address talent development challenges
See how a partnership with InStride can meet the challenges of tomorrow, with action today.