Privacy Policy
Thank you for your interest in Attainment Holdco, LLC, a Delaware public benefit limited liability company, d/b/a InStride ("InStride"). This Privacy Policy describes: (i) how we process the information you provide us when you access or use the InStride website or services (collectively, the "Services"); and (ii) options you have with respect to our use of your information.
BY ACCESSING OR USING OUR SERVICES, YOU AGREE TO OUR USE OF YOUR INFORMATION AS DESCRIBED HEREIN, AND ALSO AGREE THAT OUR WEBSITE TERMS OF USE GOVERN YOUR USE OF THE SERVICES. Terms which are capitalized but not defined in this Privacy Policy have the meanings assigned in the Terms of Use.
1. Information We Collect
When you use the Services, we collect a variety of information from and about you as described in this section. We collect this information from a variety of sources such as directly from you (through your website or event registration, or when you request information from us), your employer or university if you are using our Services in connection with a benefit offered by your employer, the computer or device you use to access the Services, and others, such as third-party partners. We may combine the information collected through these various sources and use such combined information in accordance with this Privacy Policy.
Information we collect from you, your employer, or your university. We collect the following types of information from these sources:
Contact information, such as your name, email address, phone number, and physical address.
Other identifying information, such as your date of birth.
Log-in information, such as the username and password you use to access the Services.
Demographic information, including your age and areas of interest.
Commercial information, such as records of products you have purchased or considered purchasing, and associated payment information.
Professional/Employment information, such as your work contact information and employee identifiers, your role, the name of your employer, and the industry in which you work.
Education information, such as information about previous educational agencies or institutions attended, dates of attendance, degrees or certificates received, enrollment and completion information regarding the courses you complete with our academic partners, progress reports, tuition and fee amounts, and university identifiers.
User-generated content and messages, such as information you post to the Services or messages you send us when requesting customer support.
Information we collect from your computer or device. As you use the Services, we and our service providers (who are third parties that perform services on our behalf) may automatically collect information about the computer or device you use to access the Services. This information includes your IP address, browser type, browser language, operating system, the state or country from which you accessed the Services, software and hardware attributes (including device IDs), referring and exit pages and URLs, platform type, the number of clicks, files you download, domain names, landing pages, pages viewed and the order of those pages, the amount of time spent on particular pages, the date and time you used the Offerings, error logs, and other similar information.  From your IP address, we may be able to infer your general location (e.g., city/state or postal code).
To collect this information, we and our service providers may also make use of "cookies" or similar tools that track, measure, and analyze the behaviors and usage patterns of our users. Cookies are small data files that can be stored on your browser and device so we can recognize you when you return. We use cookies for analytics purposes, to deliver certain features of the Services, to help us understand how users engage with the Services, and to improve your experience. You may set your web browser to notify you when you receive a cookie and to accept or refuse certain cookies. However, if you elect not to accept cookies, some functionality and areas of the Services may be restricted. Please review our Cookie Policy for more information on what Cookies are, how the Services uses tracking technologies, and choices you have with respect to such tracking methods.
Information we collect from others.  We may receive information about you from other sources, including third parties that help us update, expand, and analyze our records, identify new customers, or prevent or detect fraud. We may also receive information about you from social media platforms, for example when you interact with us on those platforms or access our social media content. Information we receive through such platforms is governed by the privacy settings, policies, and/or procedures of the platform, and we encourage you to review them.
2. How We Use Your Information
We use the information collected from and about you to:
Provide and offer the Services to you
Respond to your requests for information and provide you with more effective and efficient customer service
Contact you in connection with your use of the Services and future Services
Analyze use of the Services to better understand how users are interacting with the Services, improve the Services, and create new products and services
Customize the content you see on the Services
Secure the Services and resolve technical issues
Comply with any procedures, laws, and regulations which apply to use where it is necessary for our legitimate interests or the legitimate interests of others
Establish, exercise, or defend our legal rights where it is necessary for our legitimate interests or the legitimate interests of others
Aggregate/De-Identified Information. We may aggregate and/or de-identify any information collected through our Services so that such information can no longer be linked to you or your device ("Aggregate/De-Identified Information"). We may use such information for any purpose, including without limitation for research and marketing purposes, and may also share such data with any third parties, including advertisers, partners, and sponsors.
Employer/University Information. Please note that if we have collected your information from your employer or university, our use of certain of your information will be governed by the relevant agreement we have with your employer or university. With respect to the information provided by your employer or university that we are processing on their behalf and on their instructions, your employer or the university is the data controller of your information and InStride is either a separate data controller or a data processor, depending on the contractual relationship between us and them. If you have any questions about our respective roles, you can contact us using the information provided below in the "Contact Us" section.
3. Legal Bases for Processing Your Information
The legal bases for using your information as set out in this Privacy Policy are as follows:
Where we need to process your information to provide the Services to you pursuant to the relevant contact between us
Where processing is necessary for our legitimate interests (or those of others) and your interests and fundamental rights do not override those interests
Where we need to comply with an applicable legal obligation
Where we have your consent to process your information in a certain way

4. Online Analytics and Advertising
We or our service providers may use cookies and similar tools to analyze use of the Services and to provide online advertising to you that is tailored to your interests. Such advertising may appear on our Services, or on other websites or services.
You can learn more about opting-out of analytics from our third-party providers by visiting their respective opt out pages including the following:
Google Analytics: https://tools.google.com/dlpage/gaoptout
If you wish to limit third parties' collection of information about your use of our Services, and your use of other websites and services, you can opt-out at the Digital Advertising Alliance in the US, the Digital Advertising Alliance of Canada in Canada, or the European Digital Advertising Alliance in Europe. Please note that using these opt out options does not mean that you will not receive advertising while using the Services or while you are browsing the web. It will, however, exclude you from seeing interest-based tailored advertising conducted through participating advertising networks and providers pursuant to their policies. We are not responsible for maintaining these opt out choices or for the advertising activities of third parties.
You may block, disable, or delete cookies in your web browser as described in our Cookie Policy, but doing so may impact the usability of the Services. To block cookies, you can also browse our Site using your browser's anonymous usage setting (called "Incognito" in Chrome, "In Private" for Internet Explorer, "Private Browsing" in Firefox and Safari).
5. How We Share Your Information
Please note that we do not share your information with third parties for their direct marketing purposes without your permission. We share your information in the following ways:
Your Employer(s) as our Corporate Partner(s). To provide access to educational programs for the employees of our corporate partners, it is necessary for us to provide our corporate partners with information about their eligible and participating employees regarding applicable program fees, progress reports, and completion information.
Your University(ies) as our Academic Partner(s). To provide access to educational programs for the employees of our corporate partners, it is also necessary for us to provide our academic partners with information about eligible and participating employees of our corporate partners to facilitate enrollment.
Our Affiliates. We may share your information with companies under common ownership or control in order to provide you with Services to you.
Service Providers. We work with third party service providers to assist us with the provision of Services to you (for example, without limitation, website hosting, app design, maintenance services, database management, web analytics, app analytics, billing, payment processing, fraud protection, credit risk reduction, marketing, improvement of Services). These service providers have access to your information to perform the respective tasks assigned to them on our behalf.
Compliance with Laws. We cooperate with government and law enforcement officials and private parties to enforce and comply with the law. We may disclose your information to government or law enforcement officials or private parties in response to lawful requests when we believe disclosure or sharing is necessary in our good faith determination to comply with any legal obligation, enforce or apply our Terms of Use, respond to claims and legal process, protect our Services, users, our rights and/or the safety of the public or any person, or prevent or stop any illegal, unethical or legally actionable activity (including for the purposes of fraud protection).
Sale or Transfer of Business or Assets. We may share some or all of your information in connection with or during negotiation of any merger, financing, acquisition, or dissolution transaction or proceeding involving sale, transfer, divestiture, or disclosure of all or a portion of our business or assets. In such circumstances, your information may also be transferred as a business asset. If another company acquires our business, or assets, that company will possess the information maintained by us and may continue to use it for compatible purposes. Any such company will assume the rights and obligations regarding your information as described in this Privacy Policy.
Other Legitimate Business Purposes. We may also disclose your information when it may be necessary for other legitimate purposes as reasonably determined by us, in which case we will notify you of such use and/or seek your permission in accordance with our legal requirements.

6. Your Rights and Choices
Depending on your location and applicable local laws, you may have the following rights with respect to the information we process about you. To protect your privacy and security, we may take reasonable steps to verify your identity before granting such requests. Your rights may include the following:
To access, in a machine-readable format, the information we process about you, including more information about the types of information we collect and how we use it and share it.
To delete certain data that we process about you.
To correct inaccurate information.
To object to certain processing activities in which we engage based on our legitimate interests.
To withdraw your consent to certain uses of your information, where the
reason why we processed that information was based on your consent.
You also have the right not to be discriminated against (as provided for in applicable law) for exercising your rights. Please note that all of these rights regarding your information are subject to certain exceptions. For example, we need certain information in order to provide our Services to you or to comply with our legal obligations. Please also note that the required response time for us to comply with your request may differ pursuant to applicable law.
If you would like further information regarding your legal rights under applicable law or would like to exercise any of them, please contact us as explained in the "Contact Us" section below.
If certain of your information has been provided to us by your employer or university, and we are processing that data on your employer's or university's behalf pursuant to an agreement with them, we may need to direct you to your employer or university to request these rights. We will provide reasonable assistance to our customers and academic partners to give effect to consumer choices as appropriate and required by applicable laws.
Marketing Opt Out. You may choose to provide us with your e-mail address for the purpose of allowing us to send newsletters, surveys, offers, and other promotional materials related to our Services, as well as targeted offers from third parties. You can stop receiving these promotional e-mails by clicking the "unsubscribe" links in the e-mails or sending a request to the e-mail address in the "Contact Us" section below. Please note that it may take some time to process your request in accordance with our legal requirements. If you decide not to receive promotional e-mails, we may still send you service-related and other transactional communications.
SMS Opt Out. You may choose to subscribe to our SMS messaging service.  Please review our SMS Terms and Conditions for more information, including how to unsubscribe.
7. Privacy Information for California Residents
If you are a California resident, California law requires us to provide you with some additional information regarding how we collect, use, and share your "personal information" (as defined in the California Consumer Privacy Act ("CCPA")).
How We Source, Use, and Disclose Information for Business Purposes
The following chart details the categories of personal information we collect, the sources of such personal information, and how we use and share such information for our business purposes. For more information about each of these categories, please see the "Information We Collect," "How We Use Your Information," and "How We Share Your Information" sections above.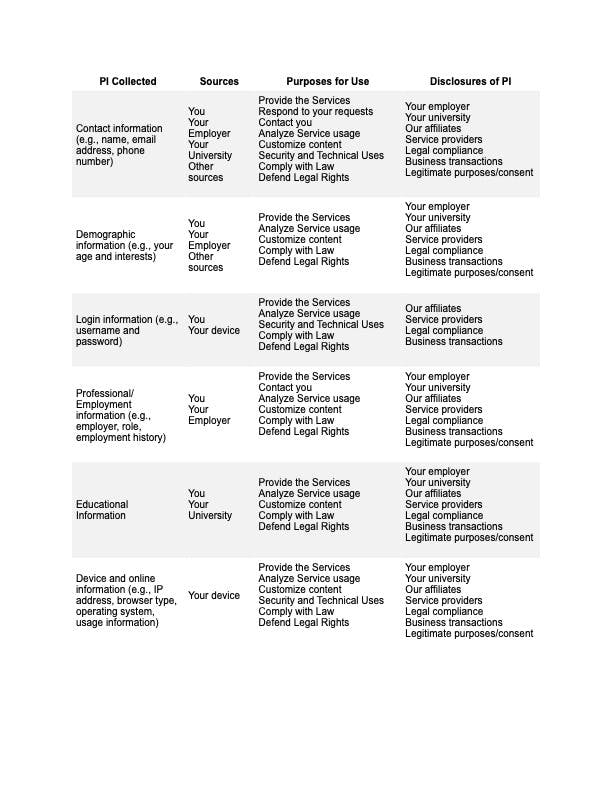 The CCPA provides certain rights if a company "sells" personal information, as such term is defined under the CCPA. We do not engage in activities that would be considered "sales" under the CCPA.
Shine the Light Disclosure: The California "Shine the Light" law gives residents of California the right under certain circumstances to request information from us regarding the manner in which we share certain categories of personal information (as defined in the Shine the Light law) with third parties for their direct marketing purposes. We do not share your personal information with third parties for their own direct marketing purposes.
Do Not Track. Do Not Track ("DNT") is a privacy preference that users can set in certain web browsers. We are committed to providing you with meaningful choices about the information collected on our Services, and that is why we provide the variety of opt-out mechanisms listed above in the "Online Analytics and Advertising" section. However, we do not currently recognize or respond to browser-initiated DNT signals.
Accessibility notice. For consumers who require this Privacy Policy in an alternative formation, it is provided on our website in a format that is compatible with text-to-speech technologies. If you require additional formats or assistance, please contact us at the address, email, or toll-free phone number below.
8. Privacy Information for Nevada Residents
Certain Nevada consumers may opt out of the sale of "personally identifiable information" for monetary consideration (as such terms are defined under Nevada law) to a person for that person to license or sell such information to additional persons. We do not engage in such activity; however, if you are a Nevada resident who has purchased goods or services from us, you may submit a request to opt out of any potential future sales under Nevada law by contacting us using the methods outlined below in the "Contact Information" section. Please note we may take reasonable steps to verify your identity and the authenticity of the request. Once verified, we will maintain your request in the event our practices
9. International Transfers of Information
Please note that our Services are provided from the United States, and will therefore involve the transfer and processing of your information in the United States. Also, in providing services to you, we may subcontract the processing of your data to, or otherwise share your data with, our affiliates and subsidiaries, trusted service providers, and trusted business partners (as discussed in the "How We Share Your Information" section above) in countries other than your country of residence, in accordance with applicable law. By providing us with your information, you acknowledge any such transfer, storage or use. When we have to transfer your data for these purposes, we will take appropriate measures to ensure such companies protect your information adequately in accordance with applicable law. Where required by applicable law, these measures may include signing standard contractual clauses. If applicable, you may make a complaint to the relevant data protection authority in the country where you are based. Alternatively, you may seek a remedy through local courts if you believe your rights have been breached.
10. Third Party Links and Features
The Services may connect with third-party websites (e.g., social media sites) and features (e.g., social "like" or sharing buttons). If you choose to use these sites or features, you may disclose your information not just to those third parties, but also to their users and the public more generally depending on how their services function. We are not responsible for the content or practices of such third-party websites or services. The collection, use, and disclosure of your information will be subject to the privacy policies of the third-party websites or services, and not this Privacy Policy. We urge you to read the privacy and security policies of these third parties.
11. Children's Privacy
The Services are intended for general audiences and not for children under the age of 13. If we become aware that we have collected "personal information" (as defined by the United States Children's Online Privacy Protection Act) from children under the age of 13 without legally valid parental consent, we will take reasonable steps to delete it as soon as possible. We do not knowingly process data of EU residents under the age of 16 without parental consent. If we become aware that we have collected data from an EU resident under the age of 16 without parental consent, we will take reasonable steps to delete it as soon as possible. We also comply with other age restrictions and requirements in accordance with applicable local laws.
12. How We Protect Your Information
We employ a variety of physical, procedural, and technological measures designed to protect your information from unauthorized loss, misuse, access, disclosure, alteration, or destruction. However, no method of transmission over the Internet, or method of electronic storage, is 100% secure. Therefore, although InStride regularly monitors our systems for possible attacks and vulnerabilities, we cannot guarantee its absolute security.
13. Retention of Information
We will retain your information for as long as necessary to fulfill the purposes we collected it for, including for the purposes of satisfying any legal, accounting, or reporting requirements. To determine the appropriate retention period, we consider the amount, nature, and sensitivity of the information, the potential risk of harm from unauthorized use or disclosure of your information, the purposes for which we process your information, whether we can achieve those purposes through other means, and the applicable legal requirements.
14. Changes to this Privacy Policy
This Privacy Policy was last updated on the "Last Updated" date herein. We may update this Privacy Policy from time to time, do to changes in the law, technology, or our practices. When we do so, we will post the new Privacy Policy on our Services. You should consult this Privacy Policy regularly for any changes. If required by applicable law, we will also provide you with appropriate notice and/or give you the opportunity to consent before such changes become effective. Continued use of Services following posting of such changes constitutes your acknowledgement of such changes and agreement to be bound by the changes. If you do not agree, you should immediately discontinue your use of our Services.
15. Contact Us
Except where otherwise noted herein, InStride is the data controller of your information. If there are any questions regarding this Privacy Policy, you may contact us at:
700 S Flower St. Suite 1800
Los Angeles, CA 90017
(888) 374-1578
privacy@instride.com
Copyright © 2022 Attainment HoldCo Attainment Holdco, LLC, a Delaware public benefit limited liability company. All rights reserved.