January 13th, 2021 · 3 min read
3 reasons why you need a c-suite champion for your employee skill-building program
Digital transformation and automation are expected to have an even greater impact on tomorrow's workforce. So there's no question that companies need employee upskilling and reskilling to prepare for what's ahead. What are the keys to creating a high-performing, skill-building program with education? One move is to find a champion within your c-suite.
Here are three reasons to act now and find your c-suite sponsor to champion your company's upskilling and reskilling efforts, and promote a culture of learning.
No. 1: Garners executive buy-in and essential ongoing support for your program
A champion or executive sponsor for a company's workforce education program plays a crucial role in creating conditions for success, especially since these programs typically span across multiple teams in the organization.
While 83 percent of learning and development (L&D) pros said that initial executive buy-in is not a challenge, it's another issue to champion a program across the company -- that requires a commitment to foster a culture of learning for the long game.
Championing a program includes crucial steps such as communicating program objectives and overcoming resistance or apathy from other senior executives. Furthermore, effective program champions have a deeper understanding of how key initiatives are important to the company and CEO, and continuously share those insights with key stakeholders, including employees
No. 2: Bolsters engagement rate and program adoption rate by employees
Having business leaders who continuously support the power of learning will not only cement the importance of the initiative, but also promote the adoption by your employees.
With greater acts of support from leadership for workforce education, more employees are likely to learn about the program offerings. But that's not all. Leaders within an organization are shown to be one of the most influential sources of information for an employee, especially when discussing career advancement and how education can impact them.
Case in point is Desert Financial Credit Union. The company president and CEO's strong support had a direct impact on engagement and adoption rates, with almost one-third of eligible employees submitting interest and nearly 10 percent enrolling in the workforce education program within 90 days.
No. 3: Ensures the program goals are aligned with the overall company strategy
When more than 22,000 people worldwide were asked about their hopes and fears related to work, more than three-quarters said they wanted to improve their skills.
Now is an ideal time for leaders to address their employees' aspirations and align them with the organization's skill-building initiatives and business goals. A good starting point is to assess employees' technical and other crucial abilities, such as problem-solving and leadership skills. Then align these skills and motivations with the needs of your business.
The positive outcomes of skill-building initiatives and education are proven. In fact, CEOs who have made investments to create a skilled and engaged workforce are already enjoying the payoff.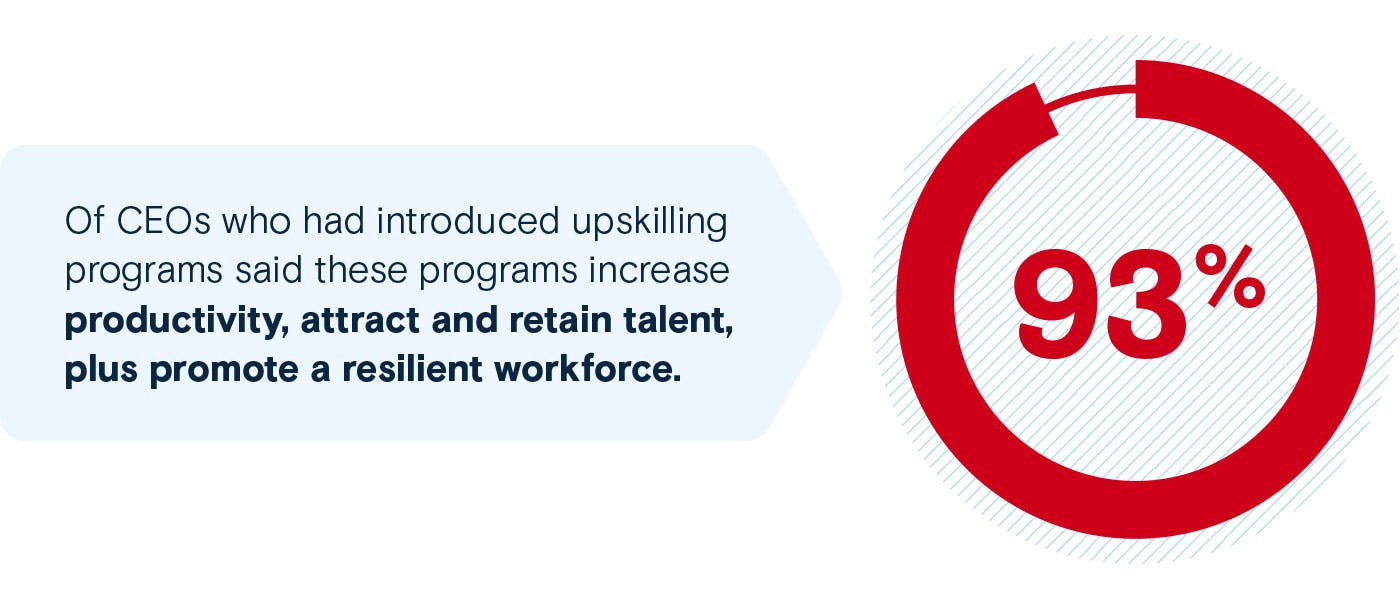 Establishing and empowering champions among your c-suite is one of five key steps to upskill and reskill your workforce to support rapid results. Download our free e-book that covers this step plus the other four which include:
Identify the best learning formats
Understand and communicate the financial implications
Invest in a bright future, today
Enable a learning experience that focuses on ease of access
You can address talent development challenges
See how a partnership with InStride can meet the challenges of tomorrow, with action today.