September 8th, 2020 · 4 min read
Engaging and upskilling telecommunications workers in the age of COVID-19
In our last post, we walked through different types of workforce education programs and the steps for designing an effective, strategic program that accomplishes your business goals. Now, let's see this approach in action with an example from the telecommunications (telco) industry.
After examining the unique challenges telco companies are facing due to the COVID-19 pandemic, we'll look at how they might design the right mix of courses, credentials and degrees to reskill talent, drive engagement and create clear paths to the workforce they need for the future.
The challenge: Upskilling employees and improving diversity, equity and inclusion (DEI)
Due to the challenges of COVID-19, this telco company has strategic goals related to upskilling, reskilling and employee engagement—as well as long-term goals to improve DEI. The surge in teleworking across the world is putting pressure on telecommunications companies to improve technology infrastructure and upgrade to 5G networks.
This company needs to create a program to achieve three main goals:
Upskilling, reskilling and increasing engagement among employees. In addition to needing to quickly reskill retail associates for work in call centers after retail stores closed, the company also needs developers and managers prepared to accelerate the readiness of advanced technologies.
Recognize employees, many of whom are classified as essential workers, for their service and commitment during an extremely difficult period. The executive team hopes the strategic enterprise education program will boost morale, stimulate engagement and provide tangible recognition of their employees' dedication and hard work.
Use education to support its larger DEI strategy by increasing the number of employees of color in management and leadership. They need a program that will help their entire workforce take the next step—from the front line to management—by providing clear paths to advancement and the tools to get there.
The strategy: A top-to-bottom approach
To overcome these challenges, the company's C-suite, Human Resources (HR) leaders and InStride will work together to design a strategic enterprise education program that achieves their goals in upskilling, reskilling and engagement. Let's look at specific groups of employees and the career paths, degrees and credentials they'll identify to support these goals.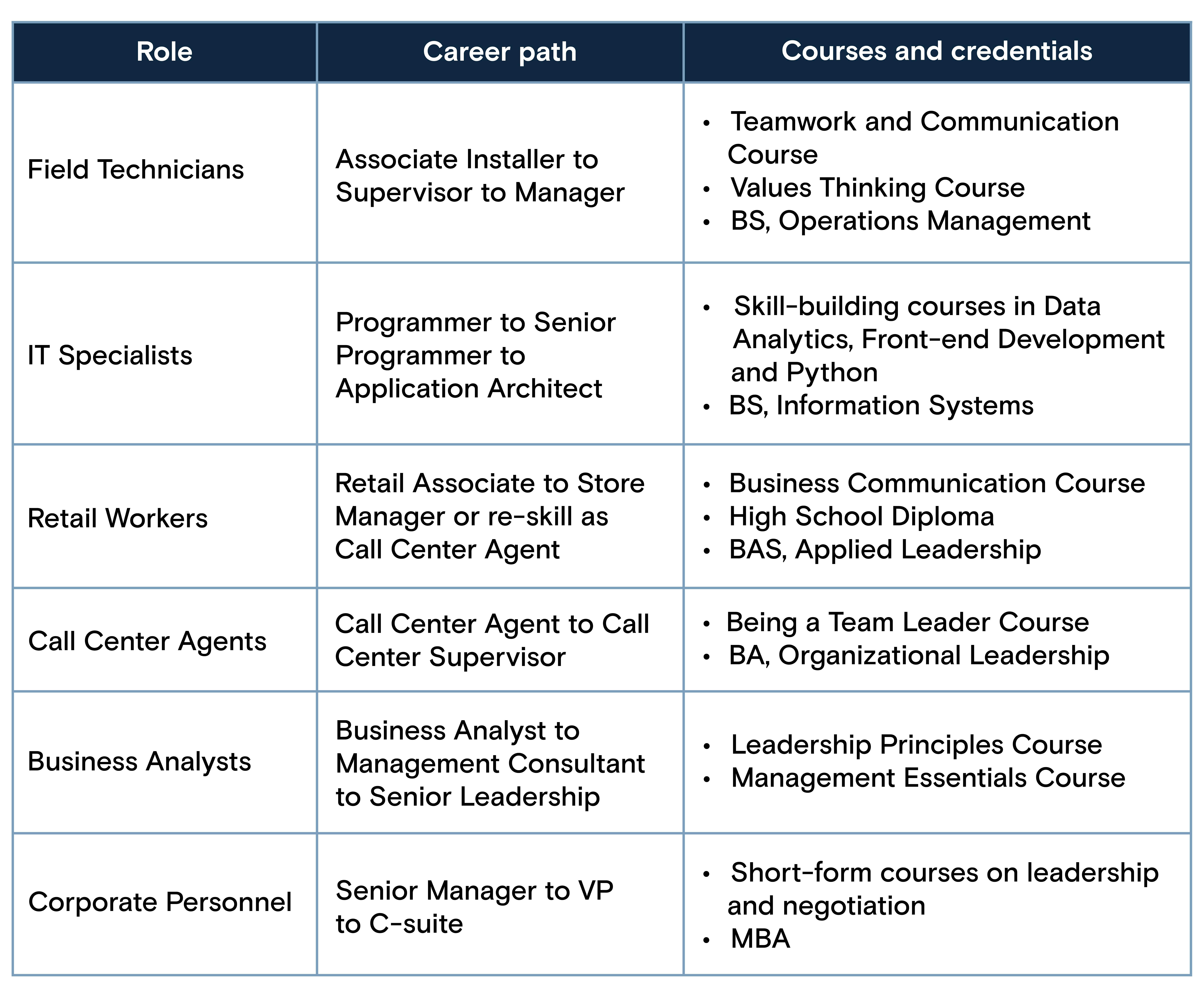 Why strategic enterprise education?
With a variety of specific challenges and types of workers, businesses like this telco company need a strategic approach to employee education, rather than a siloed, piecemeal approach to upskilling, engagement, diversity and workforce education.
"Telcos have the broadest range of workforce skills in the world. From call center agents to retail associates to field technicians to corporate personnel, one size certainly does not fit all when it comes to education needs. That's why strategic enterprise education delivers such critical value and ROI."
— Mitch Gordon, VP of Corporate Partnerships at InStride
Whether it's upskilling your existing workforce to meet new industry challenges, driving productivity and engagement in times of intense growth, improving DEI or developing new talent for roles in high demand, strategic enterprise education from InStride can help. We provide the expertise and analysis you need to align your education program to your business goals and provide career paths that meet the needs of your employees and business.
If you would like to learn more about designing a strategic enterprise education program for your organization, reach out to one of our telco consultants by emailing us at connect@InStride.com or contacting us here.
You can address talent development challenges
See how a partnership with InStride can meet the challenges of tomorrow, with action today.