May 27th, 2021 · 7 min read
A look behind the scenes: Learner-centric design at InStride
Workforce education programs have often underperformed in the past, for adult learners and companies. But there's a reason. Many of these programs were designed without taking into account the diverse needs of all learners.
InStride is changing that.
By connecting design innovation with workforce education, we have created a new approach that delivers a positive experience for users at every touch point and with every interaction. This has resulted in a significant leap in employee learner participation rates, from 1-2 percent for other programs, compared to 20 percent among employee learners taking part in InStride's programs.
Join us for a Q&A with InStride's Director of Design, Annette Neu, as she shares how rethinking the design of your workforce education program — with a focus on research and where users' actual needs are at the heart of the design — opens up the way for successful, high-performing programs.
What role does research play in the product design process? Why is it important? 
At InStride, we address one of the most important challenges of our time: How do we remove barriers to the highest-quality education for all?
How well we can solve this problem, for a large, often diverse audience, depends on design. And this is where research comes into play. To inform our design decisions, we lean heavily on ongoing user research and product analytics.
Here's more on our methodology. To generate meaningful insights through research, InStride sets out to understand the "what" and "why" of the problem we're solving. Both qualitative and quantitative research methodologies are leveraged to produce actionable, repeatable insights that drive our product and service design.
Our quantitative research gets to the "what" with a situation by producing statistically significant patterns that help us understand what's happening in the product or market at scale. For example, what are organizations across industries looking for in terms of workforce education solutions? Or, when going through our pathfinder in the InStride product, what's the most popular answer learners give as to why they want to go back to school?
Our qualitative research reveals the "why" behind what's happening in more detail. This dives into the rich contextual day-to-day lives of the learners we serve and helps answer questions that can't be quantified with numbers. This data is used to understand human emotions, opinions, attitudes, challenges and motivations.
 
How do you design a solution that fits the needs of every learner?
InStride is a user-centric solution that's built to serve the needs of every employee learner.
At the same time, pursuing education as a working adult is very personal and emotional.
Here are three insights revealed through our research, and how InStride leveraged this information to design a workforce education program that empowers learners to navigate their often complex emotional education journeys.
Insight #1: A learner's decision-making process isn't linear.
There's rarely this singular lightning-bolt moment that drives a working adult learner to go back to school. Each learner's approach to education is unique, guided as much by their employer and manager as the nuances of their previous education experience, time commitments and work/school/life balance.
Approach: A critical component to our process when designing an inclusive education program is to anticipate the unique, nonlinear journeys of diverse groups of learners, and how those nonlinear journeys impact their ability to commit to a learning opportunity.
Insight #2: Learners trust and rely on the stories of other learners' journeys.
Deciding to go back to school generates a lot of questions for learners: What will it feel like? How will it work? Can I do it? Questions like these are often rooted in a fear of failure, work/school/life balance, and whether or not this is really going to help them advance their careers.

Approach: InStride prioritizes helping organizations design meaningful learner communities to overcome their fears and confidently pursue education. We help companies get their communities up and running, and provide them with the content they need to build out their resources.
Insight #3: Well-defined ROI helps adult learners overcome their fears and time investment concerns.
For learners, the logical counterbalance to the emotional aspects of going back to school involves understanding the benefits before committing to education. They want to understand how their time commitments and hard work will meaningfully change their careers and lives.

Approach: InStride's education experts partner with organizations to design curated career education paths with clear routes to success for both the learner and the organization.
How is InStride's solution designed to support a diverse workforce?
At InStride, accessibility as well as diversity, equity and inclusion (DEI) are more than just a list of legally recognized standards. They are core to how we structure our teams, as well as everything we design at InStride.
Homogenous teams produce homogenous design solutions, which is why we focus on building teams with racial, national, gender, cognitive, inherent and acquired diversity to create innovative, meaningful design solutions for all learners.  As mentioned earlier, our mission is to remove barriers to the highest-quality education for all, so advocating for inclusivity and accessibility starts at the beginning of every project.
To that end, our design principles include:
Create accessible digital experiences for all. Aiming for AAA Web Content Accessibility Guidelines (WGAC) success criteria with every design sprint, our team lays the foundation necessary for every learner to access and use our learner experience leveraging the following four principles:
Perceivable: Everything can be perceived in more than one way. If a learner has limited vision or is blind, written content can be read by a screen reader. If a learner has partial hearing loss or is deaf, audio content has captions.
Operable: Everything can be operated in more than one way. If a learner cannot use a mouse or touchpad, they can navigate by keyboard or voice command software. If a learner moves or reads slowly, they can request additional time to complete a task.
Understandable: Everything can be understood. If a learner clicks on a navigation menu, it behaves like a navigation menu. If a button says, "Request Information" it does what a learner expects it to do.
Robust: Everything can be updated to fit the latest technology advancements without breaking.
Foster belonging through representation. One way to help prevent exclusion in design is to use default representations to minimize the impact of stereotypes and tokenism. For example, equal representation exists throughout the physical and digital language of InStride's brand through photography, illustrations, color palette, voice technologies, etc. While building the InStride brand experience, we focus on building a global experience rooted in the lives and experiences of many and avoid making assumptions about people's identities or unnecessarily forcing them to categorize themselves.
Acknowledge potential for bias. Learning about and accepting the brain's tendency toward bias is always a good step. From there, we guide our team to embrace an inclusive mindset by double-checking first impressions of how data and critique designs are interpreted. We also broaden our focus to see beyond what to expect and challenge assumptions often.
Become familiar with other people's stories that are different from your own. This can be accomplished by referencing learner personas, taking time to learn the personal journeys of other team members, and reading (a great way to learn about the world without leaving your desk).
How does InStride address common learner and organizational challenges and barriers through product design?
InStride has a corporate-branded learner experience and a corporate partner experience that includes an all-in-one admin and KPI reporting tool. Both are developed with an approach that centers on the target audiences' requirements, contexts and mindsets to drive the program design and features.
The learner experience
Includes a white-labeled, corporate-branded, public, searchable, and crawlable website that's designed to address what research showed were major hurdles for learners — complicated processes, high-friction technology integrations and a general lack of program awareness.
For example, the platform allows employees to easily navigate through their learning options with seamless academic integrations and alerts them in real-time if they are eligible to enroll or need additional approvals.
Additionally, InStride helps with branding the education program across relevant digital touchpoints and marketing collateral — this greatly increases learners' awareness of the program. The public site aspect helps with branding and awareness for existing employees and doubles as a talent acquisition tactic for attracting potential employees.
Corporate partner experience
InStride focuses on providing a robust technology platform that serves as a single source of truth for companies to manage and understand the overall health, success and activity of their strategic enterprise education program. Our research shows that a corporate partner experience is significantly enhanced by providing these benefits (that InStride delivers):
Visibility into where all learners are in their learning journeys
Status and profiles for specific learners in the education program
Tools to report and track overall budget
 
What is an interesting, and perhaps overlooked, research finding that organizations have a real opportunity to address?
The importance of frontline managers!
Frontline managers play critical roles in the success of employees pursuing education in multiple ways. Learners are more likely to pursue education when they have guidance and support from a human, not a system. An invested manager, leader or mentor builds trust by sharing experiences and helping an employee realize they are not alone in their anxiety or worry. By synthesizing and sharing the information most relevant to employee learners, frontline managers also simplify a complex process and show organizational commitment.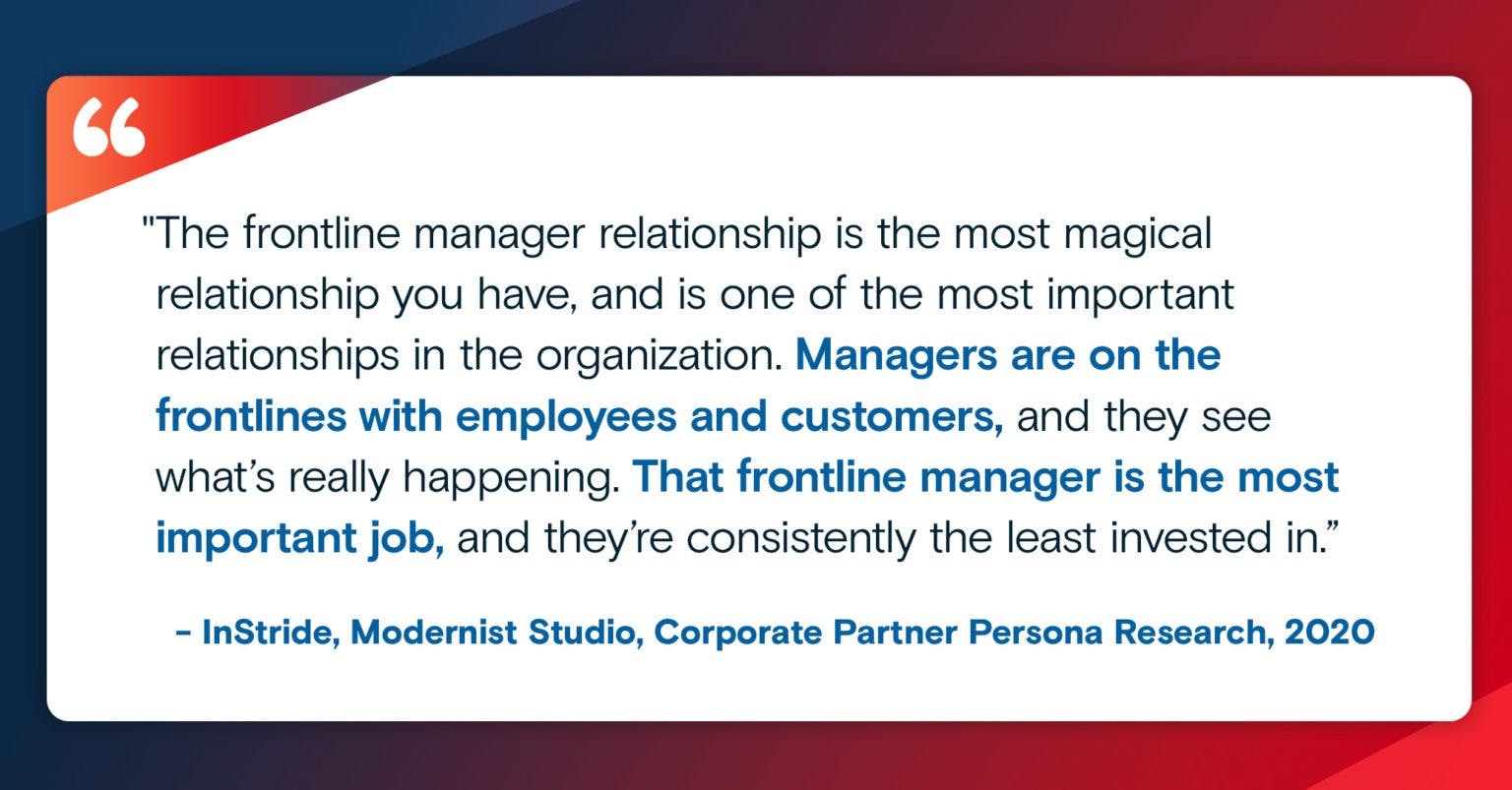 Overall, our research confirmed that supporting learners with experienced and engaged managers increases a learner's confidence in taking the next step on their educational journey. So instead of pushing learners to an outside support system, InStride equips managers and leaders with the tools they need to help learners embark on their educational journey.
Better together: Design innovation + workforce education
There's a reason why design is not a siloed function at InStride. We believe the best solutions come from strong, inclusive, multidisciplinary teams driven by actionable, strategic insights that inspire, motivate and drive the organization forward.
This collaborative approach is key for connecting design innovation with workforce education in a way that transforms what's possible.
The result? Strategically designed education programs with meaningful learning options — for large, often diverse groups — that will positively change the trajectory of an individual's career, while fundamentally improving a business' path to success.
You can address talent development challenges
See how a partnership with InStride can meet the challenges of tomorrow, with action today.