5 ways your business benefits from higher ed and how it transforms your employees' lives
Competition is increasing: for resources, for innovation, for talent. As you search for the best ways to attract and retain employees, improve customer experience, and strengthen the perception of your company brand, consider making a strategic investment in higher education for your workforce.
Why? Because it holds the power to truly transform your business and the lives of your people. Higher education, especially when aligned with your organization's strategic objectives, equips people with the opportunities they need to learn, grow, and reach their full potential — equipping your business to do the same. Higher education impacts your business and your people in five important ways.
No. 1: Increased Commitment From Employees
Provides Employees Better Opportunities for Career Advancement 
Giving employees the tools and support they need to pursue an undergraduate or graduate degree, or earn a certificate, can equip them with the skills, competencies, and credentials they need to pursue new responsibilities or promotions, and step into leadership roles at the organization (whether formal or informal). 
These new opportunities often lead to higher salaries, increased lifelong earning potential, and better benefits like more vacation time or increased autonomy and flexible working hours. With the possibility of advancement at their own company, employees no longer have to look to other companies to increase their earning potential or boost their standard of living.
Promoting From Within Leads to Long-term Sustainability and Better Performance
Creating more pathways in your organization for advancement also results in better-trained employees, better succession planning, and better leadership development — creating the sustainable competitive advantage your business needs.
According to the Pew Research Center, 47% of people who took a course or got extra training related to their jobs stated the extra training helped them advance within their current company.
You can equip your business to achieve long-term success by upskilling and reskilling the workforce you have, attracting more of your ideal employees, increasing retention, and allowing your organization to build continuously on its growth with committed people who have grown right along with your business.
No. 2: Long-term Investment From Employees
Providing Higher Ed Opportunities Helps Employees Feel Secure
Research shows having a post-secondary degree often leads to better job security. When employees know they're valued by their employer, they feel more secure and committed to the organization. This is especially true when employees have been able to advance and take on more business-critical roles. 
During an economic recession or difficult business cycles, this security is crucial to mitigating fears about potential layoffs and keeping your workforce operating as efficiently and effectively as possible. Increased confidence in job security generates myriad benefits for their personal lives as well — decreasing the stress that comes from worrying about finances, family members, and other areas.
Additionally, increased job security can lead to a stronger feeling of ownership and affinity for the employer. Secure employees are more likely to go the extra mile in their work and recommend their workplaces to potential job candidates or customers. When employees love their workplace and feel equipped and validated in their skills, they share it with others — all leading to positive reverberating effects on your brand.
No. 3: New Pathways for Employees to Explore
Create Better Alignment With Career Interests
In addition to the increased opportunities for promotions, benefits, and growth that employees experience, higher education also opens up the door for employees to pursue their specific career interests — all while staying at your company. Higher education allows employees to dive deep into the particular areas and skill sets that interest them most in their current role. A degree can equip employees with the specializations and qualifications they need to change directions and shift their roles at your company to better match their own passions. 
This could include lateral career moves like moving from marketing to client-facing sales. Or it could empower an employee, like a part-time retail employee who wants to become a long-term corporate manager, to specialize in the aspect of their domain that most interests them. A new degree or certification can give your employees the skills, confidence, and credibility to make that move within your organization instead of going elsewhere. 
This investment contributes to higher levels of job satisfaction, as employees have more freedom to pursue careers and roles that are challenging and suit their skills and interests. They feel more comfortable discussing job growth and career interests with managers, resulting in deeper engagement. Even more important, it helps your organization with strategic workforce planning and hiring, giving you better insight into the best way to get the right people in the right roles at the right time.
No. 4: Soft Skills for Better Decision-making and Innovation
Increase Employee Confidence and Performance
Equipping employees to increase their knowledge and skillsets leads to increased confidence in their personal and professional lives.
Going back to school can have a big impact on your employees' self-esteem, which will ultimately help them make stronger, more effective decisions and lead to better performance at work. You'll build stronger team members who are more confident in their ability to innovate, solve problems, and serve customers.
Whether you're focused on productivity, growth, customer experience, or increased sales, building employee confidence, autonomy, and performance is a crucial factor to help you achieve your goals.
87% reported their educational activities helped them feel more capable and well-rounded. 
69% stated their learning opened up new perspectives about their lives. 
64% said their learning helped them make new friends. 
No. 5: Long-term Contributions to Your Business
Stronger Networks, Collaboration, and Lifelong Learning
Enrolling in a degree or certificate program can provide employees with a great way to meet and get to know other professionals and thought leaders in your industry. They'll be able to develop meaningful connections and relationships with other students and professors, and tap into alumni networks and mentorship opportunities.
This kind of networking not only benefits the employee but your business as well. When your people have stronger connections, both within and outside of your organization, they're more likely to stay current with industry trends, learn from thought leaders, and consider new and innovative ideas that move your business forward. 
This means that even after employees gain their degrees or certificates, they've built the skills and network they need to become lifelong learners. Pursuing education isn't just about employee lives now, but about their lives and contribution to your business five, 10, and 20 years from now.
Make a Strategic Investment in Higher Education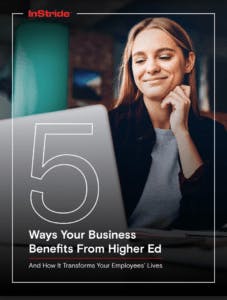 Learn Why Strategic Enterprise Education™ Can Move You Forward
The Key to Solving Your Challenges: Strategic Enterprise Education™
Empowering employees through higher education is the key to solving many of your biggest business challenges, from growth, employee engagement and performance to customer experience, recruiting, and building a sustainable brand. But it's crucial to take a strategic approach that actually considers the unique needs of your business and your people.
Learn more about why Strategic Enterprise Education equips your organization to transform lives and drive immediate, sustainable results - connect with us today.