March 30th, 2022 · 3 min read
10 employee engagement statistics you need to know in 2023
In 2023, companies continue to break new ground and open doors of opportunity with workforce education that delivers business value, as well as cultural and social impact. In this dynamic environment, it's crucial to keep updated with the latest trends.

This is part of our blog series on workforce education statistics that you need to know to develop and execute programs that build a resilient workforce, prepared for the challenges of today and tomorrow.
Companies with highly engaged employees have a competitive advantage. Engaged employees not only feel more connected to their organizations, they also help businesses thrive in terms of productivity, profit, innovation and growth.
In the past decade, employee engagement has been steadily rising. Then the global pandemic hit. The disruption of 2020 resulted in unprecedented fluctuations in the workplace, including substantial engagement drops. Fortunately, these declines were short-lived and employee engagement in 2020 finished slightly above 2019, with 2021 off to an even stronger start at 39%.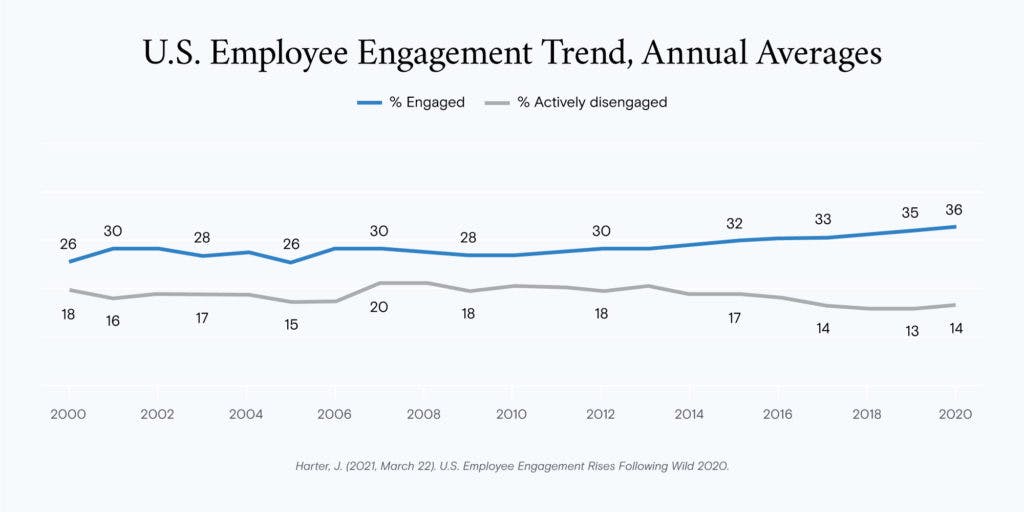 This is all good news, but there's an opportunity to harness the potential of employee engagement even more. Many factors contribute to employee engagement — top among these are training and development. In fact, facilitating career growth is one of the top employee engagement trends in 2021, and according to Deloitte, "Learning opportunities are among the largest drivers of employee engagement and strong workplace culture – they are part of the entire employee value proposition, not merely a way to build skills." 
Employee engagement statistics
Looking at the data, it's clear that there's significant ROI for organizations that focus on employee engagement. Below are 10 employee engagement statistics that provide an overview of this dynamic landscape.
Employee engagement and workforce education are a powerful combination. Offering employees education opportunities equips them with essential skills, and research shows that workforce education is also a key driver in building a truly engaged and future-ready workforce that drives company growth.
You can address talent development challenges
See how a partnership with InStride can meet the challenges of tomorrow, with action today.