June 15th, 2022 · 4 min read
Live, unbiased support: A simple way to enhance your employees' learning journey
The decision to pursue higher education can seem complicated and overwhelming, particularly as a working adult or first-generation college student. There are so many questions, such as:
"How does my company's workforce education program work?" 
"Do I qualify for the program?" 
"How do I select the right courses?" 
Live, on-demand support is one of the most dynamic ways to secure answers to these types of questions. And it's only a simple phone call or email away. Speaking directly with an education specialist is ideal for learners who require the added confidence and convenience of immediate, live support. 
At InStride, we offer Personal Education Advisors — these are education program experts that are trained to provide unbiased support. They're not incentivized to promote particular programs, but rather offer guidance based on what each individual learner needs.
Learn more about how InStride Personal Education Advisors provide learners with the support and guidance they need to thrive on their education and career growth journey. 
Why it matters
Yadira, an Executive Assistant and Event Planner working in the financial services industry, knew that she wanted to earn a college degree, but the idea of returning to school was daunting. She graduated from high school, then spent the next, busy 20 years balancing home, kids and a full-time job. Yadira was eager to continue her career growth with workforce education opportunities but unsure of where to start.

She is not alone. Many adult learners may be new to higher education or returning after a long hiatus. They often struggle to evaluate learning options, understand if they qualify for programs or figure out how to balance education and work — especially early on in the process when they are still in the discovery phase.
These learners seek support that can take into account their unique needs. In fact, recent InStride survey data revealed that the majority of learners (57%) identified live coaching as their preference during the awareness and discovery phase of their learning journey. 
Benefits of Personal Education Advisors
Setting up corporate partners and their employee learners for success, InStride Personal Education Advisors provide learners with the extra, on-demand support and guidance they need to thrive on their education and career growth journey.
This includes proven outcomes such as:
Improved employee participation and engagement: Learners who have access to support with live, on-demand Personal Education Advisors are more likely to participate in the learning experience, and, as a result, be more engaged employees.
Scaled support of employee education offering: Free up your HR and management teams' valuable time by directing employee education questions to our learning experts.
Stronger education and career outcomes: Send your learners on an intentional path to great education outcomes with expert learning and career guidance. The result? Improved skill acquisition, graduation and promotion rates.
Personal Education Advisors: Who they are
InStride's Personal Education Advisors are live, on-demand coaches who are trained to answer questions from adult learners and provide general guidance.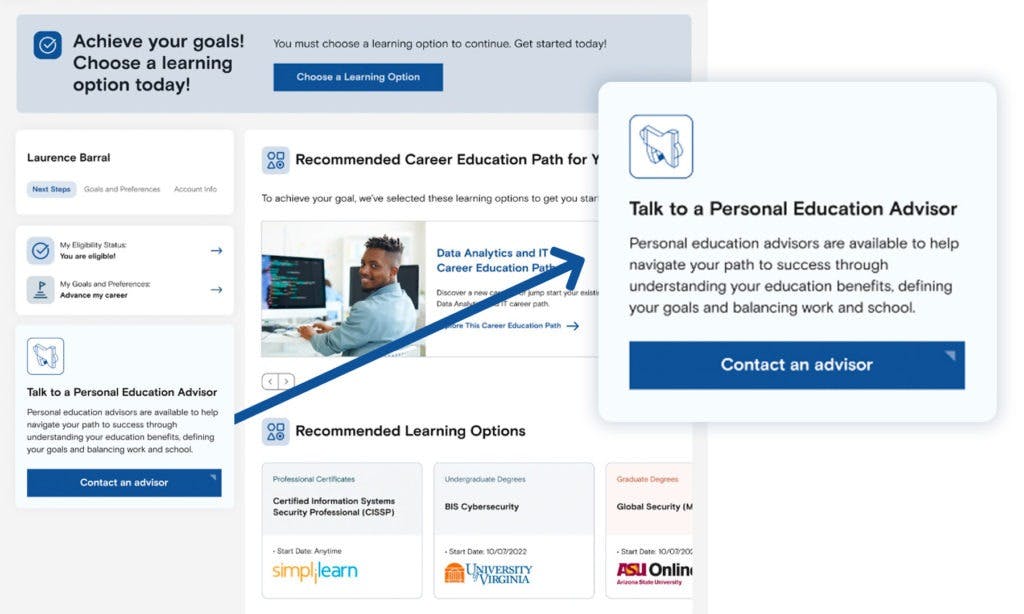 Unlike other workforce education programs that use an in-house call center with coaches who are incentivized to sell academic programs, InStride's model works differently. We are committed to maintaining an independent voice. 
InStride Personal Education Advisors are not incentivized to sell and, instead, focus on common questions and barriers that often hold prospective learners back from applying to education programs. This ensures that learners receive the most accurate, unbiased and personalized information possible. 
Types of support and guidance
InStride Personal Education Advisors are experts in understanding the needs of working adult learners and will be trained in the details of your program. They are uniquely prepared to support the breadth of prospective learner needs ranging from work-life planning and career aspirations to the details of their employer's unique program. 
Through Personal Education Advisors, learners can easily secure answers to:
Corporate partner-specific questions: About their employer's program details and program coverage. 
Academic program questions: Which education programs are available, how to navigate admissions and how to best plan their education objectives.
General education support: The InStride learner experience, prepping for education readiness, plus costs and financial aid.
Whether a learner wants to learn more about the benefits, gain confidence about taking advantage of a learning option, learn what they need to do next or understand the unique values of a specific academic institution, support is there to make sure learners succeed on their education journey. 
Ready to activate a better learner experience?
When it comes to workforce education, it can be challenging to know how and where to even start. That's when reaching out to a live person is key. InStride Personal Education Advisors provide an easy way to get the guidance and expertise learners need. 
See it in action: Get in touch today to learn more about Personal Education Advisors and how you can enable your learners to take the next step on their education journeys with confidence.
You can address talent development challenges
See how a partnership with InStride can meet the challenges of tomorrow, with action today.