October 1st, 2021 · 4 min read
The power workforce education brings to your recruitment strategy
Talent acquisition has never been as challenging, or exciting, as it is now. To attract the best candidates in this ultra-competitive job market, companies need to be resourceful. Of course, talent acquisition leaders understand this. However, not all organizations know how to leverage the power of workforce education to elevate their recruitment efforts.  
Leading a movement that makes workforce education and lifelong learning a possibility for all people, InStride has teamed up with industry-leading organizations — such as adidas, Carvana, Banfield Pet Hospital and other large organizations. Based on our collective knowledge, below we've compiled actionable tactics that you can implement today to take your recruitment strategy to the next level.
Why it matters: Valued offering, employer brand, DEI and more
In today's work environment, top candidates have more job options than ever. With that comes higher expectations — job candidates look at more than just the position and compensation. Statistics show that job seekers are placing greater value on things that fall into the "emotional salary" category such as flexible working hours, paid time off, plus education opportunities that create paths to career advancement.
"Putting workforce education into your recruitment strategy can go a long way to enhance and differentiate your brand," said Courtney Picciolo, Senior Manager, Learning Marketing at InStride. "It shows potential applicants, as well as current employees, that your company is a forward-looking, people-first organization to work for, encourages and sponsors the development of new skills, while attaching great value to long-term personal growth."
Additionally, diversity, equity and inclusion (DEI) is a critical priority for organizational culture and growth. This extends to talent acquisition as well, with more than three out of four employees and job seekers reporting that a diverse workforce is an important factor when evaluating companies and job offers. Having a workforce education program that's accessible and able to accommodate team members from all backgrounds is a powerful way of highlighting your organization's commitment to DEI. 

How to leverage workforce education as a recruitment strategy
Cover the basics
The best place to start is by covering the basics. Begin by engaging the right promotional channels to highlight your education program to job candidates. These include:
Job descriptions: Include in-house training and workforce education opportunities in your job descriptions. This can help you attract the kinds of curious lifelong learners your workplace will need in the coming decades to keep up with the rapid pace of change.
Website: Highlight your workforce education program in talent acquisition content such as your company's careers or culture section.
Emails: If you have a large applicant database, consider running dedicated email campaigns that prominently display your workforce education program. A targeted approach like this enables you to gauge program interest from your pool of prospective candidates.
Learner testimonials: Shine a spotlight on the life-long learning opportunities gained by your people who have participated in your workforce education program. These stories can be shared through a variety of formats, such as videos or case studies, and be featured across key web pages and social media.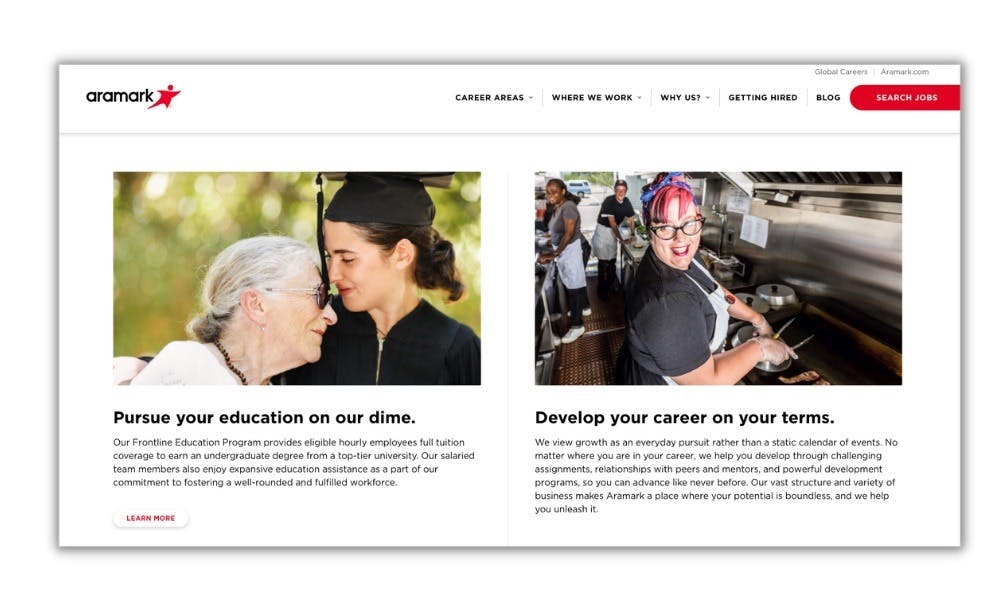 Expand social media reach
You're most likely already using social media to post job listings, as 96 percent of employer branding and recruitment specialists use these channels. Yet, there's always room to expand your reach. By doing so, you're able to showcase the value of your workforce education program in a way that's engaging and easily digestible for job seekers. 
More communities: Explore other communities and apps where you can find the right people. These can include TikTok, Snapchat and even Spotify. 
More industry-leading content: Position your company as a trusted resource. In addition to utilizing your current networks for posting job ads, share insights about industry trends, news and the value of workforce education in the industries you're recruiting from.
More formats: Expand on the types of formats used. For example, video testimonials from employee learners can be an extremely effective way to capture job seekers' attention.
Maximize the value of employer review sites
The influence of sites, led by Glassdoor and Indeed, cannot be overstated — 78 percent of job seekers utilized employee review sites to form an opinion about a respective employer in their most recent job search, and 60 percent of job seekers reported reading employer reviews before applying for an open role or actually contacting a company. 
Here are ways to get the most out of these valuable sites:
Opportunities: Include workforce education opportunities in your company profile and job descriptions on Glassdoor, Indeed, etc.
Endorsements: Encourage current employees participating in your workforce education program to share their experience in their reviews.
Amplification: Post or link to these positive employee reviews for further amplification on your social channels.
Look internally to build your talent pipeline
While valuable for attracting external candidates, workforce education can also help you fuel an internal talent pipeline for recruiting. Across the board, the desire to learn exists with 97 percent of employees expressing interest to expand or at least continue the amount of time they spend learning. What's more, opportunities for acquiring new skills and career progression through workforce education have emerged as strong drivers of talent management that builds future-ready organizations.  
Ways to tap into your internal talent pipeline include:
Advertise: Promote job opportunities internally, as well as externally.
Career education paths: Develop career education paths that align with specific roles and arm managers with the training and resources needed to support employees who want to take advantage.
Leadership: Recognize, recruit and grow leaders from within your company. 82 percent of senior leaders said developing future leaders is the most pressing challenge their company faces. Providing workforce education prepares current employees to be internally recruited for these key leadership roles.
Start now: Boost your recruitment strategy with workforce education
One of the best things about today's dynamic employee recruitment landscape is seeing all the new possibilities that workforce education opens up for companies and their people.
Ready to take the next step? Unlock this free presentation template to learn how to help your organization build a modern recruitment strategy that includes workforce education.
You can address talent development challenges
See how a partnership with InStride can meet the challenges of tomorrow, with action today.