September 23rd, 2022 · 5 min read
The crucial role of a skills taxonomy for HR and L&D success
Companies worldwide are experiencing massive skills gaps across all industries — 78% of tech employers, 76% of health employers and 72% of banking and finance report difficulty finding workers with the skills they need, with equally troubling numbers for construction, retail, hospitality and education sectors. Simultaneously, the job market has 1.8 open positions for every unemployed person. Further, even with increasing job loss due to the rise in automation and AI, by 2025, 97 million new roles may emerge to facilitate the needs of an AI-driven economy. 
The takeaway? Companies not only need more workers, but they need talent that can both do their current jobs and the new jobs that are emerging.
To meet the need for skilled workers and to stay competitive, organizations are doubling-down upskilling and reskilling their workforce. It's an intense race to stay ahead of the curve (or merely catch up).
With mandates from boardrooms to solve these labor challenges, one of the first questions asked is: What are the skills gaps that need to be addressed? But in fact, there's a more fundamental question to ask first: What is your skills taxonomy? 
Before we go any further, let's discuss what a skills taxonomy even means.  
What is a skills taxonomy?
A skills taxonomy is an agreed-upon vocabulary or nomenclature for describing the skills needed to do any particular job. This vocabulary defines the skills needed throughout your organization for every role, delivering a structured, stratified list that all parties can access and understand. This list also provides a framework for conducting skills gap analyses, making it simpler to see which skills to assess and prioritize which gaps to address first.
The process of developing a taxonomy begins by identifying the skills and competencies required for a particular position — this is the knowledge, abilities hard and soft skills that are required to be successful in that role. You can layer on the level of proficiency required or the level of importance a skill is to the role. From there, you can begin to build out skills clusters — these are groupings of positions that require a similar set of skills. This is where you can start to see what skills overlap, and how skills apply to different roles across your organization.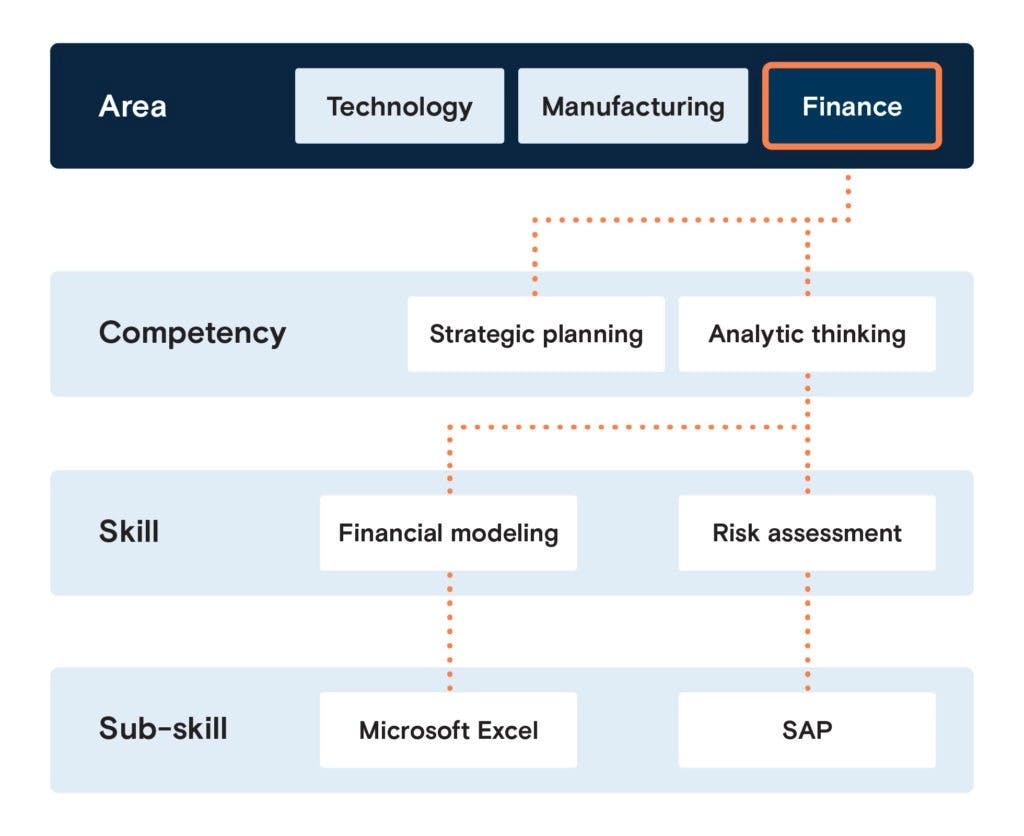 The way companies hire and develop talent is changing 
Historically, HR has followed a role-based approach to hiring and development, filling and training for positions based on the defined responsibilities of a specific role. This approach typically takes a very broad view of the employee and matches skills and experiences to a generically-defined title, such as "Product Manager" or "Web Developer."
A skills-based approach, on the other hand, breaks down roles into key skills requirements and then looks at what an individual can do or is capable of doing, matching skills to a present or emergent need. In the case of a Web Developer, those skills may include knowledge of HTML and CSS, design, WordPress, Javascript, front-end development, back-end development, SEO, UX or analytics. 
While there is no right or wrong method, a growing number of organizations are moving towards a skills-based approach because it looks beyond a job description and zeros in on an individual's unique abilities.  
Focusing too much on a position instead of skills can cause you to overlook the important nuances that come with every role. Additionally, when relying on a role-based system, you may have qualified people on hand for critical jobs, but not even realize it. By shifting the focus onto the raw skills that drive your organization forward, you will also be able to more easily move people into seemingly unrelated positions requiring similar skills, and then upskilling/reskilling them to fill in any remaining gaps.
With a skills-based approach, a taxonomy becomes an invaluable tool because it gives your organization a shared language for speaking about and understanding skills.
7 benefits of a skills taxonomy
When executed correctly, a skills taxonomy can:
Empower your organization to allocate the right learning resources to the right people. Knowing what skills your organization needs the most allows you to strategically develop learning programs that are truly effective at equipping your workforce with the training or education needed to address skills gaps.
Enables a more accurate and equitable assessment of job candidate suitability by matching specific skills required for the job to the specific skills of the candidate. This avoids the ambiguity and lack of consistency in traditional hiring processes.
Guides your efforts when conducting a skills gap analysis by providing a common vocabulary of skills and what they encompass.
Eliminates the guesswork of trying to piece together what skills are needed to be successful in a role. This also enables people managers to better support individual employee development and goal-setting.
Provides better transparency into internal mobility plans. Employees, managers and people leaders alike will understand the exact skill sets employees need to develop in order to advance within the company or take on a new role in a different department.
Helps you keep a finger on the pulse of emerging skills, allowing you to forecast future skills needs before they arise.

How to build a skills taxonomy framework
Let's talk about how you can structure your skills taxonomy to facilitate a more efficient hiring process and improved L&D strategy for your company. 
Understand hard vs. soft skills
You should be looking at both technical capabilities as well as character-based qualities to foster a deeper understanding of the nuanced drivers of success within each role. It can be helpful to create both a hard and soft skills taxonomy when getting started. 
Build skills clusters
Skills clusters help you to understand which roles share what skill sets, what skills may transfer between different career paths, as well as what skills may relate to one another. Skill clusters are not job-specific, but give you a broader overview of the application of a variety of skills and competencies across jobs and even teams or departments.
Differentiate between skills and competencies
Knowing what counts as a skill versus a competency is tricky but important, as competencies are often role-specific and not something you can easily train for. For example, use of Google Analytics software is a skill, whereas the ability to make data-driven decisions is a competency.
Weight skills by required proficiency and importance to the role
For instance, both an Editor and a Graphic Designer may require knowledge of Photoshop, but the editor may need only cursory experience for resizing images, while the designer requires expert-level proficiency. Or a Cyber Security Analyst, Nurse and Web Designer may all need to know Excel, but that skill is far less important than others required by each role.
Start small
A skills taxonomy is an enormous undertaking, so consider starting with a single department or a cluster of roles to get a clearer understanding of the process. Take time at the front end to see how things work and what level of detail makes the most sense for your organization.
Loop in key stakeholders
For buy-in and accuracy, get input from both the workers doing the jobs and their managers on the skills needed for each role.
Leverage external data sources
Industry data can help give you the context you need to better analyze skills for the roles within your organization. Incorporating external data into your taxonomy can also help you stay on top of emerging skill sets that you may not be aware of and need to account for in the future.
Dial it back
If your taxonomy is getting too granular to be useful, don't be afraid to simplify. As the saying goes, the best taxonomy is the one you use. 
Why the quality of your taxonomy matters
Sound L&D decisions require a consistent and up-to-date skills taxonomy because this is the foundation upon which all skills assessments will be done and decisions made. Meaningful results depend on quality and consistent data. As inconsequential as it sounds, using a consistent skills vocabulary is the very first step to a reliable skills gap analysis, better hiring practices, and ultimately, relevant L&D programs that enable employees to heighten up-level their skill sets today and in the future.
Looking for more skills development resources? Access this step-by-step guide on how to upskill and reskill your workforce for rapid results.
You can address talent development challenges
See how a partnership with InStride can meet the challenges of tomorrow, with action today.